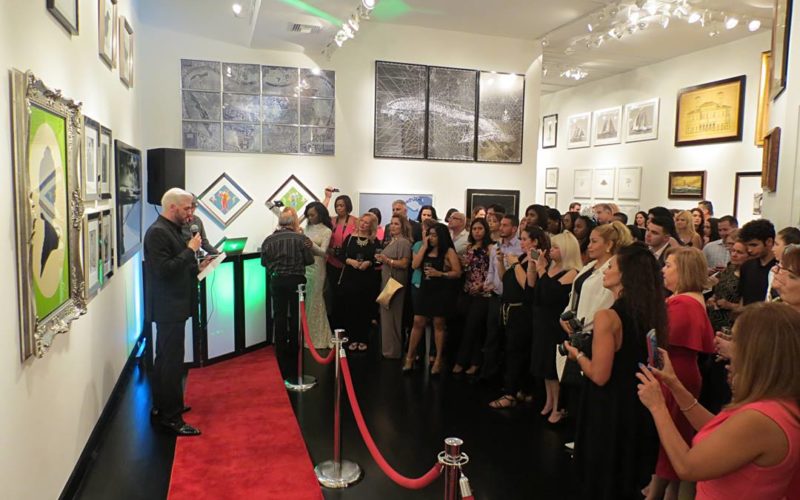 La espaciosa y moderna galería Bruggens, ubicada en la muy cosmopolita avenida Miracle Miles de Coral Gables, abrió sus espacios para que Fashion for a Cause's o Moda para una Causa realizara The Fashion Affair, con el objetivo de recaudar fondos para Epilepsy Foundation de Florida.
Bruggens Gallery  fue inaugurada hace  un año y cuenta con más de 700 obras de arte clásicas y contemporáneas de más de 100 reconocidos artistas de diferentes países del mundo. Juan David López, uno de sus directores, manifestó que abrieron sus espacios para la celebración de este fashion show porque permite unir el mundo de la moda con el arte en beneficio de una noble causa.
Carlos Junquera, director ejecutivo de Fashion for a Cause's comentó que cuando buscaban locaciones para realizar este evento benéfico, por casualidad conocieron Bruggens Gallery y les pareció la locación perfecta. "El evento no pudo quedar mejor pues conjugó arte, belleza, moda, gastronomía y solidaridad en una sola y maravillosa noche", dijo.
Fashion for a Cause's nació en el año 2012 en Las Vegas, Nevada, de la mano de Andrés González y desde sus inicios ha tenido como objetivo servir de plataforma, a través de la moda, para apoyar a organizaciones o fundaciones no gubernamentales que trabajan para causas filantrópicas. Se estrenan con éxito en La Florida, apoyando con The Fashion Affair a Epilepsy Foundation.
La prestigiosa diseñadora de origen venezolano Nuvia Quintana de "Nuvia Q"  tuvo el honor de presentar a sus bellísimas modelos, quienes lucieron espectaculares trajes de coctel y de noche y también modelaron su colección de trajes de novia 2017. El estilismo estuvo a cargo de Marisol Casola, propietaria de La Per Beauty Salón y la deliciosa degustación fue proporcionada por el resturante de comida tailandensa Red Koi; el toque latino fue puesto por el Rinconcito Paisa4 y lo dulce lo puso Craving Sweets con sus ricos cupcakes.
Fashion for a Cause's fue un evento memorable con gente maravillosa unida por una noble causa y en un lugar perfecto, Bruggens Gallery, que bien vale la pena visitar para recrear los sentidos a través del arte.